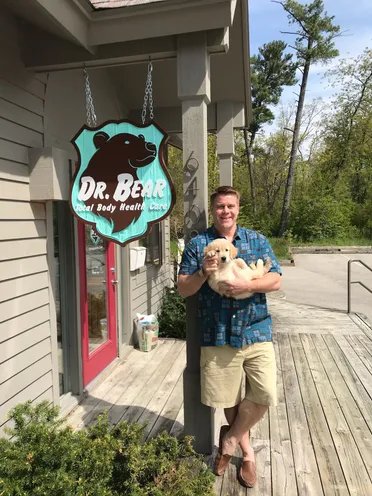 Dr. Mark McBride
Dr. Mark McBride, received his Doctorate of Chiropractic from National University of Health Sciences in Lombard, Illinois. Before opening Doctor Bear Total Body Health Care in Glen Arbor and Traverse City, he worked for five years with Dr. Gene Aiello, of Advanced Chiropractic in the greater
Chicago area. In addition to chiropractic care, Dr. McBride is extensively trained in the areas of physical therapy, nutrition, blood testing, physical exams, fitness and massage. Dr. McBride focuses on caring for
the total health of the body through nutrition, fitness and chiropractic in a symbiotic relationship.
Dr. McBride was born in Novi, Michigan. He grew up playing football, running track and wrestling. Dr. McBride's mother introduced their family to the beauty of Glen Arbor when he was in elementary school. In 1984, the McBride family realized his mother's lifelong dream when they purchased a
small cottage on Big Glen. The McBride family spent the next several summers building a home on the lake. Dr. McBride spent his childhood summers on the lake learning how to water ski, taking sailing lessons at the Yacht Club, biking around the lake and spending hours playing on the
Sleeping Bear Sand Dunes. When he is not treating patients Dr. McBride enjoys doing the same activities that he fell in love with as a child on Glen Lake, except he is now teaching his daughter Zoey how to live the lake life.